Product Innovation Process
Driving growth through innovation requires the ability to continuously adjust market offerings in response to changing market conditions. The capability is powered by an efficient and robust product innovation process that consist of four general steps. The first step is the generation of new ideas based upon market opportunities and trends, competitive landscape, and customer needs. The second step is the process of selecting which ideas merit investment of resources for development and commercialization. Here decisions need to be made in alignment with business strategy and organizational capabilities and require a portfolio management process. In the third step, the selected ideas are transformed into deliverable products and services through a development process. The fourth stage is commercialization which includes market innovation and launch practices as well as sales management. The process then repeats with the input from customer feedback and competitor reaction to new offerings.
The assessment process includes examination of core capabilities related to this product innovation process along with examination of the alignment between strategy, market conditions, and three key innovation process parameters: speed, bandwidth, and risk,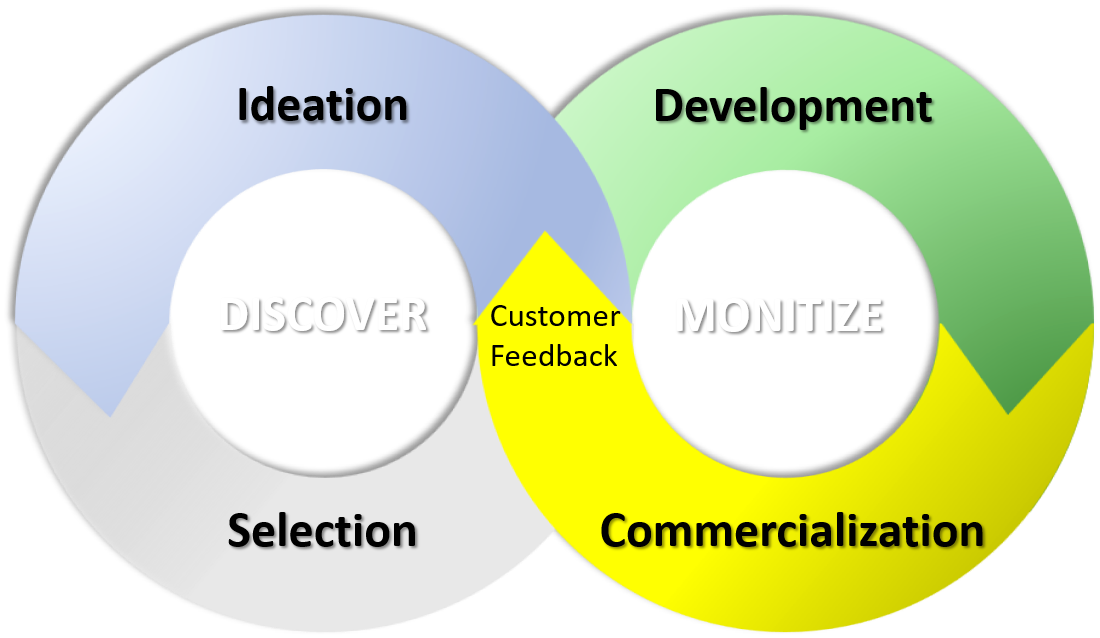 HIGH SPEED
Key Competencies:
Risk management
Business model Innovation
Customization
Modularization
Key drivers:
High level of competition, disruption and shifting market logic.
Rapidly changing technology such as Internet of things
LOW SPEED
Key Competencies:
Market knowledge
Governance and compliance
Key drivers:
Long production cycles
Market barriers
Regulations
HIGH BANDWIDTH

Key competencies:
Active portfolio management
Brand knowledge
Modularization
A and B testing
Prototyping
Key drivers:
Uncertain market. Hard to predict trends.
Risk spreading.
LOW BANDWIDTH

Key competencies:
Market knowledge
Customer insights
Key drivers:
Short-term cash flow, no room for failure and no need for jackpot.
Expensive and inflexible production system, meaning you cannot easily adopt a new kind of production.
RISK MINIMIZATION

Key competencies
Risk management capabilities
risk affection/attraction rather than risk aversion
Key drivers:
Optimization in a red ocean
Optimizing what you have optimize with low short-term risk
OPPORTUNITY MAXIMIZATION
Key competencies:
Customer intimacy
Measurement
High-speed iterations
Key drivers:
Blue Ocean strategy initiatives.
Higher risk short-term